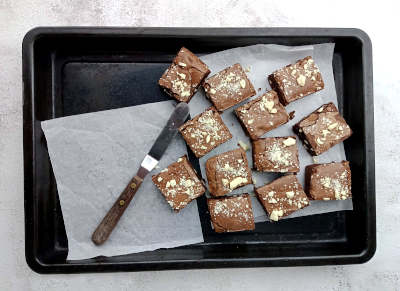 All about Stickyjack:
Caroline's unique creation, We believe you won't have tasted anything quite like it.

Stickyjack, an outrageous combination of textures and flavours – buttery oat base, dark chocolate and lightly salted, sweet sticky caramel, finished with a crumble crunch oaty topping. Think millionaires shortbread meets flapjack!
Your Great Bakes Stickyjack will arrive in its own 'stay fresh tin' and unopened will keep for 2 - 3 weeks. Once opened storing them in the fridge will help to prolong their life. I prefer to bring them back to room temperature before eating although they are still delicious eaten chilled. All our goodies will freeze very well for up to 3 months, you can just pop them in the freezer, tin and all.

As one fan put it "It has to be tasted to be believed!"